Farewell, Aaron Loux!
Longtime MMDG dancer, Aaron Loux, will give his final company performance in Mozart Dances this weekend.
Aaron Loux joined the Mark Morris Dance Group in 2010 and has since danced in more than 75 Mark Morris works, including 18 world premieres, during 175+ performances. His notable roles and solos such as Young Drosselmeyer (Prince) in The Hard Nut, "Double" in Mozart Dances, and Three Preludes have garnered him critical acclaim as "the most immediate and immersed member of the group," (Alastair Macaulay, The New York Times). Aaron's powerful grace and dynamic expression have been a beloved mainstay of the company these past 12 years.
As Aaron moves on from the Dance Group, he plans to continue his education at the Columbia School of Graduate Studies and launch a second career.
Aaron's graceful, strong, beautiful dancing will be terribly missed, but we're excited about what's ahead and wish him continued success and happiness in his future pursuits!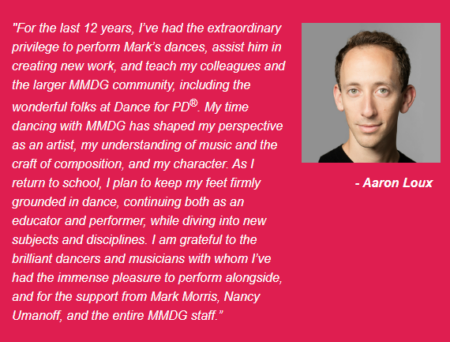 Our vision for programs reaching 200,000 people worldwide.
We've launched a new fundraising campaign, Mark Morris BOLD, a $10 million investment to bring dance to 200,000 people of all ages, with and without disabilities worldwide.
And we have some incredible news!  An anonymous donor has contributed $1 million, naming the Maxine Morris Studio and providing a special co-naming opportunity for you and all Mark Morris Dance Group supporters.