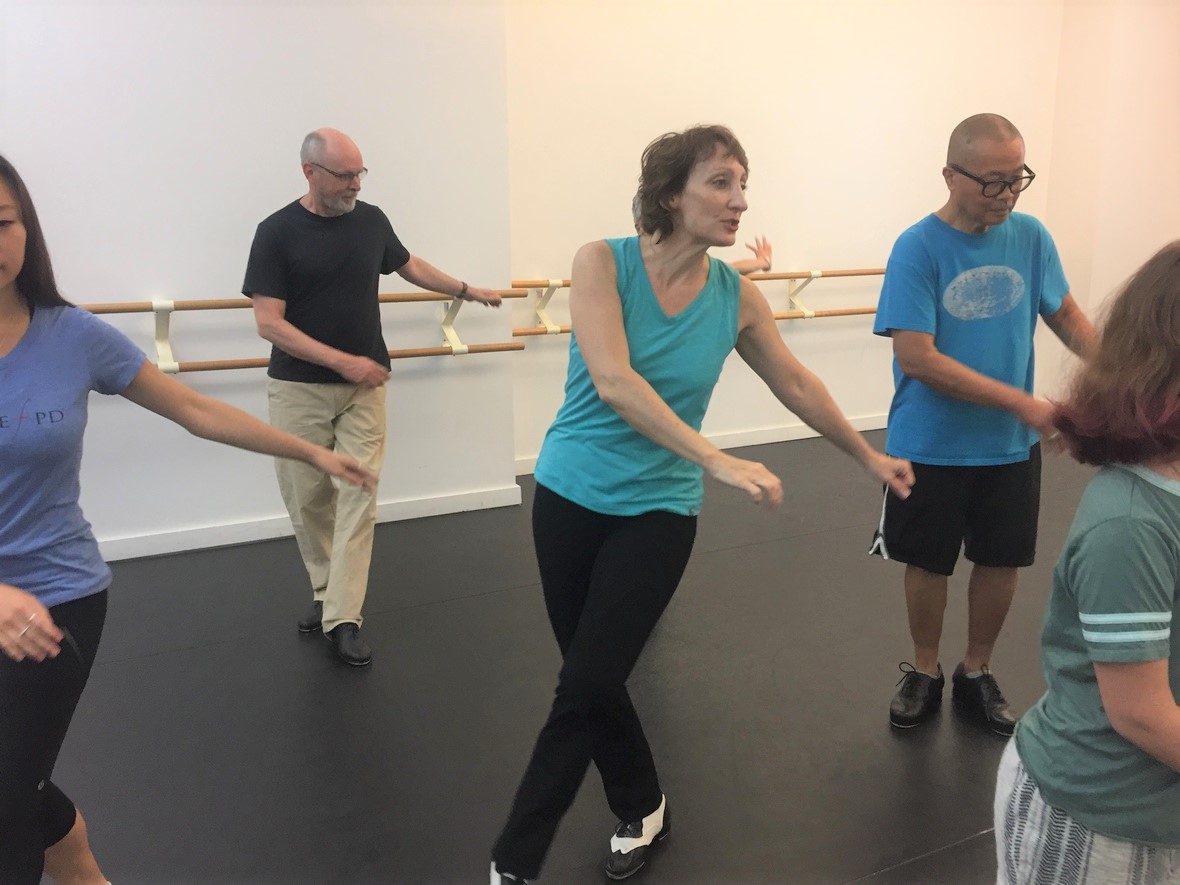 Dance for PD® Online Tap Workshop
Led by Misty Owens, this 4-class Tap Workshop for persons living with Parkinson's is designed to improve rhythm and musicality while exploring and developing basic tap technique.
Open to all levels of experience and mobility. Seated versions of every dance will be simultaneously demonstrated. Accompanying care partners welcome to join free of charge.
Participants should wear comfortable clothing. Non-rubber soled shoes are recommended; soft sole, suede and leather options are best. Tap shoes are optional and should only be used at home on tap boards. (You can make a DIY tap board from a scrap piece of masonite, linoleum, plywood, or even cardboard. Any non-slip, hard surface that will protect your floor will do–just make sure its edges are weighted or taped to the floor to avoid a tripping hazard.)
Dates and Times:
Tuesdays & Thursdays
August 4, 6, 11, and 13
1-2:15 PM (ET)
---
►These virtual, interactive classes are offered live through Zoom. Click here to learn about Zoom and download the application on your laptop, computer, or smart device.
►Advanced registration is required at least 20 minutes prior to the scheduled start time for each class. Register for 1, 2, 3, or all 4 classes in the series.
►To best support the health, sustainability, and future of our program and organization, this is a fee-based class. Dance for PD members can enroll in the full series for $8/class. Non-members are welcome to join for $10/class.
Registering with MindBody
We are using a registration platform called MindBody for these online tap classes.
To register for any number for classes in the Online Tap Workshop, click on the register button below. You will be redirected to the registration page where you can select 'Sign Up Now!'
If you have attended classes in person at the Mark Morris Dance Center in Brooklyn, simply enter your email address and password and select 'Log In'.
If you have forgotten your password, enter your email address and select the 'Need new password?' option. From there, follow the instructions to create a password, and proceed to register.
If you have not previously attended classes at the Mark Morris Dance Center, or your email address is not recognized, please follow the instructions to create a new account.
If you have any questions or difficulty, please email Sam at sam@danceforpd.org or call (800) 957-1046 (international callers please use +01-646-450-3373).
Telephone registration
To register by telephone for classes, please call (800) 957-1046 (international callers please use +01-646-450-3373) and leave your name, phone number, email address and the name of the class you wish to attend. Program staff will get back to you to collect payment information and confirm your registration
About the Teacher
Misty Owens returned to Dallas, Texas, after 12 years of teaching, choreographing and performing in New York City. She danced with the Peggy Spina Tap Company in NYC for 20 years performing in such venues as Jacob's Pillow. While in NYC, she taught at Marymount Manhattan College, Long Island University-Brooklyn, and The School at the Mark Morris Dance Center where she was a faculty member teaching multiple dance styles and Artistic Director of Student Companies I & II. A Dance for PD® founding teacher, Misty began teaching the Dance for PD® classes in 2003 in Brooklyn, and wrote extensively about the program for her MFA thesis. She has presented the program at conferences and symposiums in the U.S., Canada and England. Misty often joins her colleagues to train other teachers in the Dance for PD approach across the US. In 2016, Misty was commissioned by the Dallas Museum of Art to create four months of collaborative art and dance classes at the DMA with members of the local Dance for PD classes. As a result of this pilot program, an ongoing program will welcome a monthly series of informative Art Classes and Dance for PD Movement Sessions in the Dallas Museum of Art. Misty's teaching outreach includes a broad age range from young children to centenarians in both public and private settings. She is a dance faculty member at University of Texas-Dallas, she teaches Dance for PD classes through the Dallas Area Parkinsonism Society and she is Co-Director of the London School of Dance with Gwen Owens.