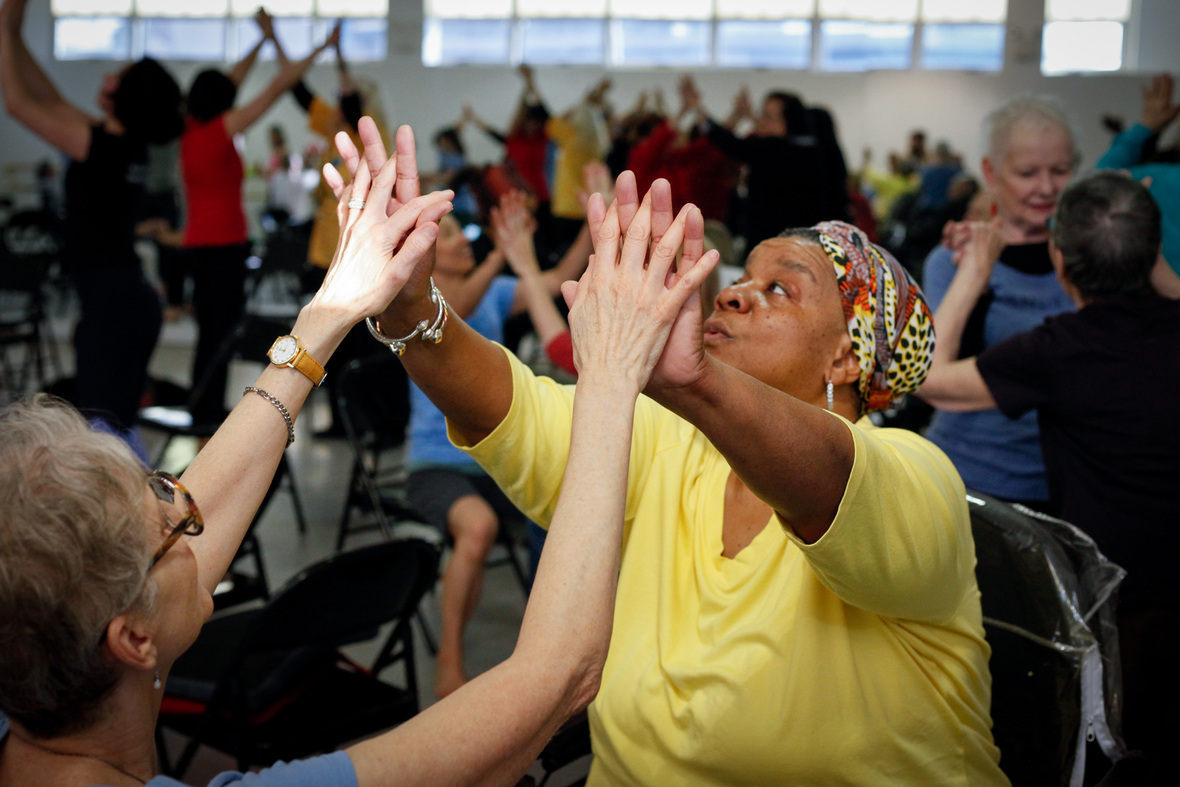 Dance for PD® Online Introductory Workshop
Our August introductory workshop, offered only online, is specially designed to help trained dancers and dance instructors adapt their expertise to work effectively and comfortably with the Parkinson's population under the guidelines and methodology of the Dance for PD® program. You'll cover special modules that focus on class structure, pedagogy and exercise design, and participate in a practicum class to develop class content and teaching techniques with founding teachers and other trainees, in addition to covering general modules about safety and working with Parkinson's participants. Online workshops include a special module on remote teaching. Download our complete training guide here for more information.
Although these workshops are specifically geared toward dance teachers, we welcome a diverse group of individuals who may be interested in the workshop for Educational & Professional Enrichment (EPE). The EPE program is designed to provide a comprehensive and intimate look at core components of the Dance for PD® program so that a wide variety of individuals without dance training or dance teaching experience can learn about our methods and benefit from our resources.
---
Prerequisites
All trainees must satisfactorily complete an asynchronous 8-module online training program before attending the live synchronous online workshop. The cost of this 8-module course is $85 ($75 for members). It is expected that the self-directed course and assessment will take 8-10 hours to complete. You'll receive a link to this course when we approve your training application.
---
Application
Please click here to complete our application. We will notify you upon acceptance into the workshop, and then again approximately four weeks prior to the event with information about final registration and payment.
Important note: If you have already completed our training application process and would like to participate in this workshop, please write to us at admin@danceforpd.org to pre-register for this workshop. You do not need to click through to complete a second application.
Schedule
Thursday, August 5
9:30-10:15 AM Introduction
10:15 AM-12:00 PM: Anatomy of a Class Part I
12:00-1:30 PM: Lunch and rest break
1:30-3:45 PM: Anatomy of a class Part II
Assignment: Watch Capturing Grace (2014, dir. Dave Iverson); 60 minutes.
Friday, August 6
10:00 AM -12:30 PM: Anatomy of a Class Part III
12:30-2:00 p.m. Lunch and rest break
2:00-3:45 PM: Dance for PD community class with Q&A and breakout sessions
3:45-4:30 PM: Online teaching approaches and best practices
Assignment: Prepare one complete activity to share on Sunday
Saturday, August 7
10-10:30 AM: Review
10:30 AM-1:00 PM: Teaching practicum Part I
1:00-2:00 PM: Lunch and rest break
2:00-3:30 PM: Practicum Part II
3:30-4:00 PM: Wrap up
Tuition
Tuition covers all digital materials and sessions, free lifetime On Demand access to four Dance for PD At Home instructional videos and five music albums (a complete package valued at $190), and a one-year membership to Dance for PD (valued at $45).
Standard rate: $389
Member rate: $359
No payment is due until Final Registration, which will be requested approximately six weeks before the start of each workshop. You will receive notification via email when your application is approved, and then again when final payment is due.
Fellowships
Fellowships and scholarships may be available on a case-by-case basis. For information on Fellowships, please click here. We prioritize scholarships for teaching artists from under-represented communities. Please contact us for more information about scholarships.
Dance for PD® Online Introductory Workshop
August 5 - 7, 2021 9:30 am - 4:00 pm
$389, $359 (for members)
A real-time, synchronous and interactive online workshop for dancers, dance teachers, students, therapists, and allied health professionals.