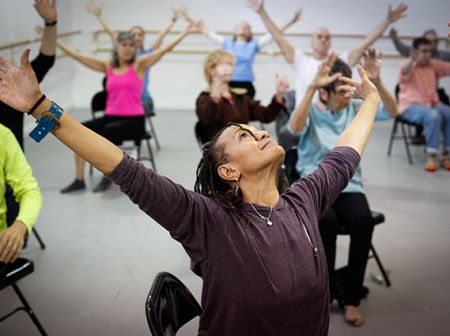 DanceAfrica Inclusive Workshop
Be a part of the DanceAfrica community! In this inclusive, interactive class, designed for disabled and nondisabled adults, participants learn the rhythmic clapping pattern of Icyizire and some of the basic traditional movements from Rwanda. African and diasporic dance forms celebrate community and aspects of daily life, providing a unique window into the culture, history, and traditions of its people.
For adults (ages 16 and up) with and without disabilities; all levels of experience welcome. When you register, we invite you to share your accommodation needs and any other information that will help us to best support your experience.
---
Co-presented by BAM and Mark Morris Dance Group
In conjunction with DanceAfrica 2019
DanceAfrica Inclusive Workshop
May 27, 2019
11:30am | $12
All levels and abilities, 16+. Led by Pat Hall. Accompanied by Pamela Patrick and Yuichi Iida. Co-presented by BAM and Mark Morris Dance Group