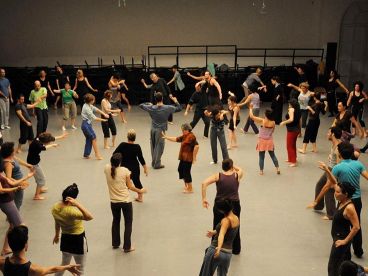 Gaga/People
Gaga is a movement language developed by Ohad Naharin in Israel to help dancers (and non-dancers alike) reconnect to the way they move. In Gaga/people classes, teachers offer evocative instructions that each dancer is invited to respond to and explore in their own way. Rather than a rigid set of exercises and techniques, Gaga/people classes offer a creative framework in which participants can reconnect with their bodies, explore their imaginations, increase their stamina, and experience the pleasure of movement in a welcoming, accepting environment.
Open to all experience levels.
Led by Gaga faculty with guest Batsheva Dancers.
IMPORTANT NOTE: Late entry is not permitted in Gaga classes. The first few minutes of Gaga is very important due to the physical and mental awareness it creates for the class environment. Please plan accordingly.
---
Photo by Gadi Dagon