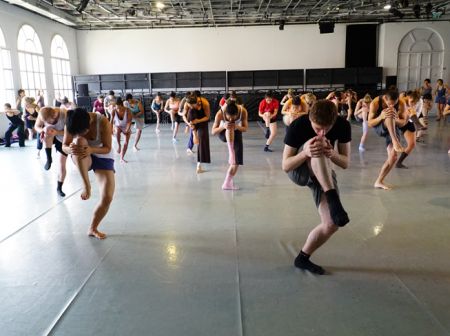 GagaLab Summer
Join us for GagaLab Summer 2020: 6 days of intensive physical research, with a sense of plenty of time for process and discovery. Rooted in Ohad Naharin's evolving movement language, GagaLab offers a framework to develop your artistry while connecting to your skills, imagination, and passion to move. Awaken your senses and turn on your engines in morning Gaga/dancers classes. Then apply Gaga tools to Naharin's renowned, challenging choreography in daily repertory sessions, and deepen your understanding of Gaga in afternoon methodics classes.
For professional dancers and dance students 18+
Monday, August 10 – Saturday, August 15, 2020; 10am- 4pm
Video Submission Requirement
ALL attendees must send a link to a one minute video, regardless of previous attendance. Share your passion to move and your skills. Please send video link to saar@gagapeople.com.
Once accepted into the intensive you will be invited to register.
---
See tabs below for Schedule, Tuition, and Cancellation information.
Questions? E-mail Saar Harari
Schedule
The daily schedule will include classes in:
Gaga/dancers:
This class is very similar to the daily class that is given to the Batsheva Dance Company dancers.
Ohad Naharin's Repertory:
Learn excerpts of Ohad Naharin's choreographic works from the company's dancers and teachers. In this class, dancers apply their training in Gaga to the repertory.
Gaga methodics:
This class will enable dancers to work in a different mode and study the most fundamental elements of Gaga in a deeper way.
Sample Daily Schedule (subject to change):
| | |
| --- | --- |
| Gaga/dancers class | 10:00am – 11:15am |
| Repertory | 11:30am – 1:30pm |
| Lunch break | 1:30 – 2:30pm |
| Methodics | 2:30pm – 4:00pm |
Tuition & Cancellation Policy
Tuition: $680(early), $750 (after June 10) this includes a non-refundable $150 registration fee
Discount: Dancers who have attended a previous Gaga Intensive in Tel Aviv, New York, Los Angeles, Belgium, Barcelona, or Italy (Torino) will receive a 15% discount on the tuition, bringing the total cost of the program to $612 (early) $675 (late).
---
Cancellation Policy
Cancellations & Refunds – If you reserved a spot and need to cancel, please notify us as soon as possible.
If you cancel before June 10: you will receive a refund of the tuition minus the non-refundable $150 registration fee.
If you cancel between June 11 and July 10: you will receive a 50% refund of the tuition.
If you cancel after July 11:you will receive a 25% refund of the tuition if your spot can be replaced with another student. If your spot is not filled, no tuition will not be refunded.
Faculty
Gaga faculty and guest artists from Batsheva Dance Company lead the intensive.
Summer 2019 faculty to be announced soon.
GagaLab Summer
August 10 - 15, 2020 10:00 am - 4:00 pm
$680 (early bird) OR $750 (after June 10)
For professional dancers and dance students 18+. Immersive course with Gaga USA led by former dancers from Batsheva Dance Company.