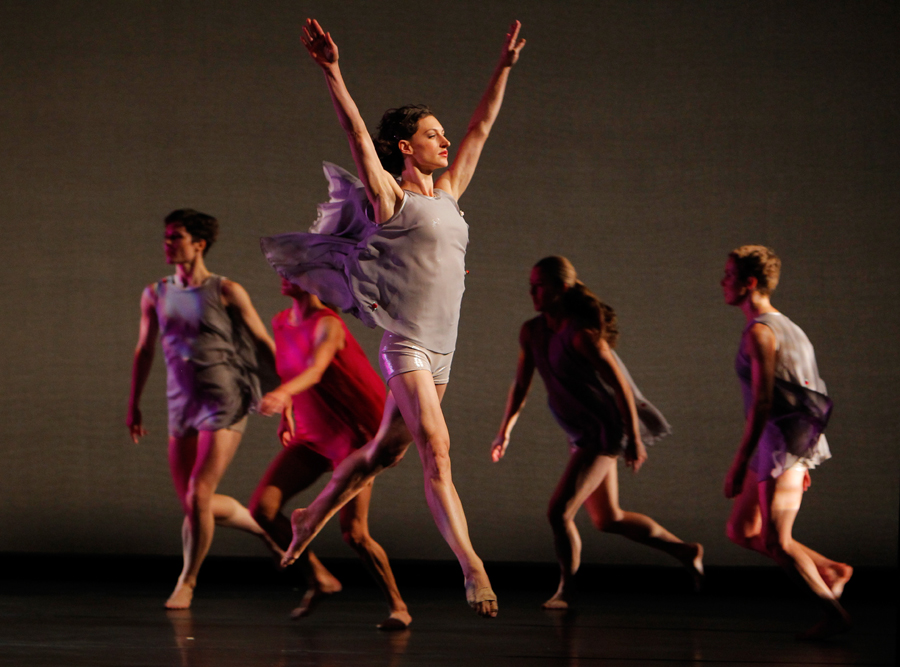 Mark Morris Dance Group Summer Intensive
June 15-26, 2020
Mark Morris Dance Center
Brooklyn, New York
Explore the innovative and challenging work of Mark Morris. Study with current and former Mark Morris Dance Group company members in daily classes that include modern dance, ballet, pilates, and MMDG repertory.  The  Summer Intensive includes music seminars, panel discussions, lectures, and one-on-one coaching; and culminates in an informal showing at the Mark Morris Dance Center.
Participants can choose to attend both weeks or just the first week only.
2020 Repertory TBA
---
Early application deadline: April 8, 2020
One week: $475
Two weeks: $775
Final application deadline: May 28, 2020
One week: $500
Two weeks: $825
Admission is on a rolling basis. Applicants will be notified within 2 weeks.
**Attendees of MMDG's Summer 2019 Intensives receive $25 off registration and do not have to re-audition. Please register below directly.**
How to Apply
1. Complete the application form online with personal statement.
2. Select in this application whether you'll be attending an audition in person or submitting a video.
(Video submissions should include two center work combinations, one in modern dance and one in ballet. Performance videos are accepted as long as the dancer is clearly identifiable.)
PLEASE NOTE: You will complete enrollment upon acceptance to the program.  Your payment will be processed at that time. Dancers accepted into an Intensive will be notified via e-mail. Once accepted, to guarantee a spot in the program students must register and pay in full online.
Housing Information and Application
Housing is available for the Summer Intensive for a separate fee. Dancers should indicate their interest in housing information on the application, fill out the Housing Application Form, and return it with their application. Prospective students will be contacted with more details if/when accepted into the program. Please do not send a housing deposit until you are accepted into the program.
The fee for housing is $650/2-weeks based on double occupancy and $1300/2-weeks based on single occupancy with a shared bathroom for the floor. There is no food plan, though the dorm has a common kitchen and laundry room.
HOUSING INFORMATION:
Long Island University—Brooklyn Campus provides optional, limited housing for students of our Summer Intensive in the Connolly Residence Halls for students ages 18 and up.  The Connolly Residence Hall is located in the heart of downtown Brooklyn Cultural District and just three blocks away from the Dance Center.
If interested, you must fill out the Housing Application form.  Housing is available on a first-come-first-served basis.
Students may store their suitcases at the Mark Morris Dance Center on the last day of the Intensive.
CHECKLIST:
We recommend students bring items from this list that are necessary for personal need or comfort.  Please carefully consider travel needs when preparing your own personal packing list.
Alarm Clock
Cell Phone & Charger
Clothing to last for the duration of the Intensive
Toiletries and Personal Care Items
Towels & Washcloths
Bedding (Sleeping Bag or Extra-long Twin Sheets, Blankets & Pillowcases)
Pillow
Laundry Basket/Bag
Soap
Picture ID (Driver's License, Passport, State ID)
Insurance Cards or Medical Information
Prescription Medications
Additional Suggested Items
Umbrella or Raincoat
Radio, MP3 Player, Headphones
Cards / Games / Books
Computer
Sewing Kit
Water Bottle
Favorite Snacks
Portable Tissues
Shower Shoes (Flip Flops)
Comfortable Walking Shoes
Items for Class (Dance Shoes, warm-ups)
Change for Laundry
Items Not to Bring
Candles or Incense
Matches
Drugs or Alcohol
Illegal Substances
Weapons
Fireworks
Moving Vehicle (Car, Moped, Motorcycle, Scooter)
Halogen Lights
Toaster Ovens or Hot Plates
Air Conditioner or Space Heater
Pets
Flammable Liquids
Nails or Items that Damage Walls
Audition Locations
Open to the public: Audition in Brooklyn – March 12, 2020, 10am – 12pm at the Mark Morris Dance Center.
Mark Morris Dance Group Summer Intensive
June 15 - 26, 2020 9:30 am
Early registration $775 two weeks, $475 one week; After April 8 $825 two weeks, $500 one week;
For advanced to professional dancers, 16+. Study. Explore. Dance. Perform.