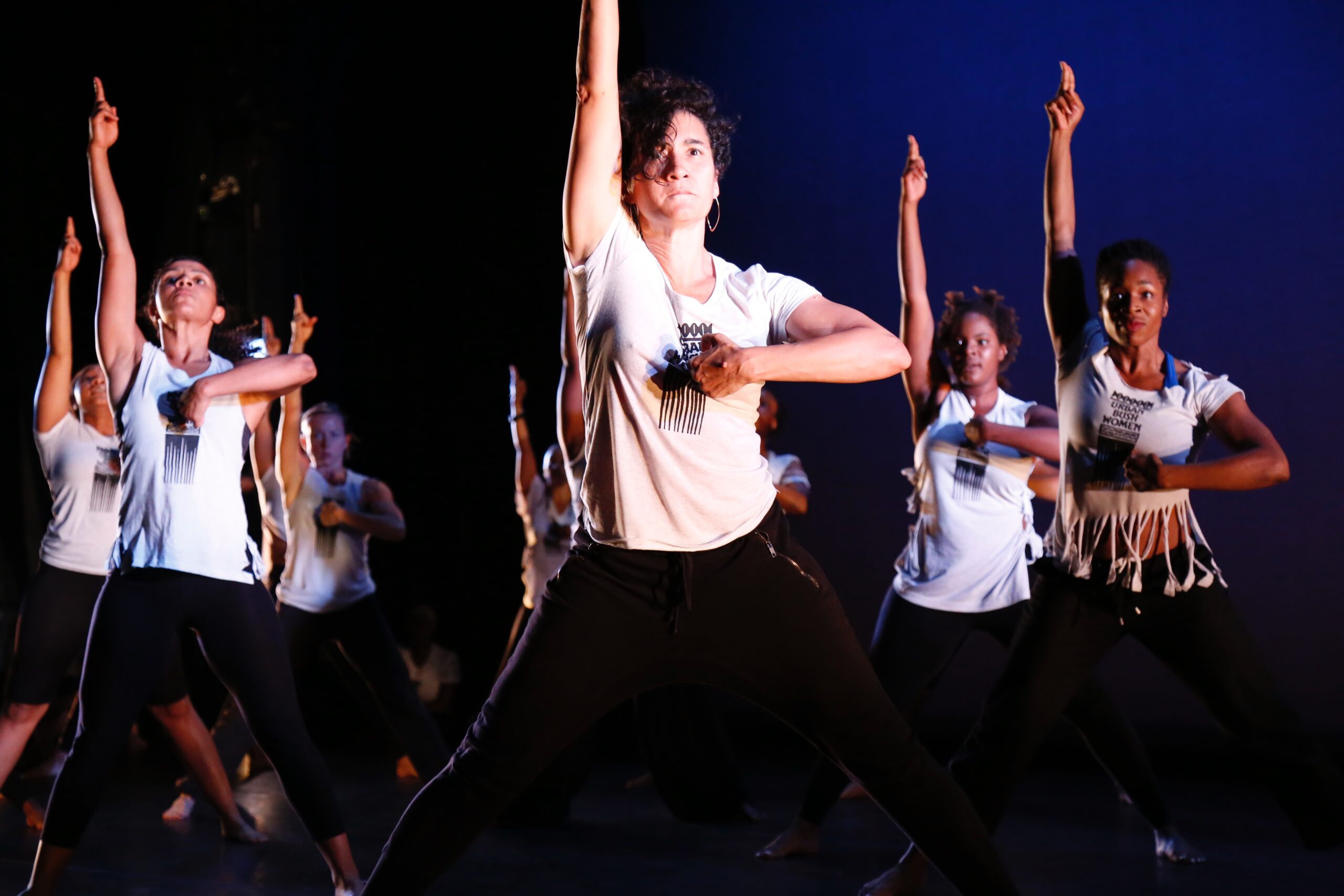 Urban Bush Women Technique and Repertory Workshop
Participants will explore Urban Bush Women's Legacy works as well as engage in pre-professional movement study rooted in the "Liberated Pelvis," a movement methodology created by Co-Artistic Director Mame Diarra (Samantha) Speis, that acts as a portal to enter a durational investigative process, in order to develop an artistic expression that can create specific narratives or delineate abstract designs. Within this process, students will be asked to interrogate their discoveries and knowings through an improvisational framework of duration, permission, play, and transparency, in addition to organized movement.
---
Date: December 11, 11:00 am – 4:00 p.m. 
Location: Mark Morris Dance Center – 3 Lafayette Avenue, Brooklyn, NY
---
Price: $125
*Space is limited; please reserve your spot in advance.
Cancellation Policy:
Students can cancel their registration up to 48 hours prior to the start time of class. To receive a refund upon cancellation the student must contact adultprograms@mmdg.org. Refunds are granted less a $5 processing fee. Students who cancel within 48 hours of the start time of class will not receive a refund.
---
Facilitators/Faculty
Chanon Judson (Co-Artistic Director) joined UBW in 2001. Additional credits: Taylor Mac's A 24-Decade History of Popular Music, Prophecy Dance Company, Cotton Club Parade, Fela!. Commercial credits: L'Oreal Live, The Tonight Show Starring Jimmy Fallon and Michael Jackson's 30th Anniversary Concert. Chanon was part of the APAP Leadership Fellows Program, and DirectorsLabChicago. She was an arts educator with Alvin Ailey Arts in Education, BAM, and is founder of Cumbe Center's Dance Drum and Imagination Camp for Children and Family Arts Movement.
Mame Diarra (Samantha) Speis (Co-Artistic Director) is a movement improviser and the mother of Aminata and Aicha. She has worked with Gesel Mason, The Dance Exchange, Jumatatu Poe, Deborah Hay, Marjani Forte, and Liz Lerman. Speis was the recipient of the Alvin Ailey New Directions Choreography Lab and was awarded a Bessie for Outstanding Performer. Her work has been featured at the Kennedy Center, Long Island University, Joyce SoHo, Hollins University, Danspace Project, Dixon Place, Dance Place, and The Kelly Strayhorn Theater. She has been a guest artist and teacher throughout the U.S., South America, Senegal, and Europe.
Courtney J. Cook (Associate Artistic-Director) studied at Virginia Commonwealth University. She has performed with choreographers Maria Bauman and Marguerite Hemmings, and with ModArts Dance Collective and Betty's Daughter Arts Collaborative, among others. In 2018, she received a New York Dance and Performance "Bessie" Award: Outstanding Performer. She is currently collaborating with Tendayi Kuumba and Greg Purnell on FLUXX.
Kentoria Earle was raised in Winter Haven, Florida and is the proud daughter of Kent Earle and Victoria Wilson. She recently graduated from The Florida State University where she obtained her Master of Arts in Dance/ Studio Related Studies. Since graduating she has had the opportunity to work with choreographers/ artists such as Renegade Performance Group, Abigail Levine, and Urban Bush Women as an apprentice. Kentoria has spent her first few years post grad entering the field as a Brooklyn based performing artist and collaborator. She is working to build an artistic process that looks at solo/improvisational practices as a way to tap into ancestry and lineage based movement exploration. Kentoria believes these practices support and open up spaces where artists can be fully present for what often results in holistic & sustainable approaches to our healing, individually and collectively.
Symara Johnson a Portland Oregon native, currently residing in Crown Heights, Brooklyn, has immersed herself in interdisciplinary and choreographic studies globally. She is a recipient of the Dai Ailian Foundation Scholarship based in Trinidad and Tobago. Symara is a graduate of the Beijing Dance Academy and SUNY Purchase's Conservatory of Dance program. She currently is a CPR 2022 AIR. Johnson has presented work throughout NYC and Germany. She has danced works most notably by & for Kevin Wynn, Ogemdi Ude, Rena butler, Jasmine Hearn, Hannah Garner, Nattie Trogdon+Hollis Bartlett, Slowdanger, Marion Spencer, Joanna Kotze, Netta Yerushalmy, Christoph Winkler and more.
Bianca Leticia Medina is a Boricua-Mexicana NYC-based Dance Artist. She began her career based in Los Angeles working as a full-time dancer, choreographer, and teaching artist touring globally with CONTRA-TIEMPO Activist Dance Theater, Viver Brasil Dance Company, and choreographer/ collaborator Marina Magalhães. A proud Chicago native, Medina holds a B.F.A in Dance from the University of Iowa, and has studied in-depth in Salvador, Bahia, and Brasil with internationally acclaimed choreographer, Vera Passos. Currently, Medina holds a Rehearsal Director & Co-Choreographer position in Magalhães's Creative Capital Award-winning project, Body as a Crossroads, and is honored to begin her journey as a Company Member with critically acclaimed legacy, Urban Bush Women.
Roobi Gaskins is an NYC-based artist, who specializes in dance, choreography, and garment construction. Although she has always had a passion for dance, she owes her movement genesis and training to 14 years of competitive figure skating, where she competed internationally as a member of the Puerto Rican national team. She began her formal dance training at Bard College where she received a BA in Dance. She was an apprentice with Urban Bush Women in 2019-20, and has also performed works with various artists including Abby Z and the New Utility, Brownbody, 7NMS, and Trisha Brown.
Mikaila Ware (B.F.A. Florida State University) began her dance training at Fort Stewart, Georgia at the age of five. Now a NY-based movement artist, Mikaila has worked in the mediums of dance and film with choreographers such as Davalois Fearon, Kayla Farrish, André Zachery, and Johnnie Cruise Mercer. Mikaila's performances have been featured in articles such as the NY Times, Dance Magazine, and Dance Enthusiast. Additionally, Mikaila completed the Accessibility Partnerships and Programs Fellowship at Lincoln Center and is an alumna of the Diversity in Arts Leadership program with the Arts and Business Council of New York.
---
For more information on Urban Bush Women, visit their website.
Urban Bush Women Technique and Repertory Workshop
December 11, 2022 11:00 am - 4:00 pm
For advanced and pre-professional dancers age 14+