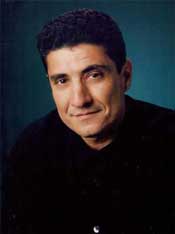 Andre Degas
Andre Degas has danced with the Mambo King Eddy Torres. He performed with Carlos Koenig Latin dance ensemble in many venues and NY night clubs. He was one of the original members of Casa De La Salsa, that group performed in Salsa Congresses in NY and Puerto Rico. He choreographed a Latin jazz medley for his own group Otra Oportunidad. Andre had the privilege to study Afro Cuban with Master Choreographer Pupi (Felix Insua). He performed with his group in the traditional Afro Cuban dances. In jazz Andre Performed with Pepsi Bethel (Authentic jazz Company) and more recently with Sue Samuels (Broadway Dance Center).
Learn more about Mark Morris
Adult Classes
Beginner Salsa
$17/class
Please note, Bethina Flores will be subbing for Andre Degas and Cindy Dowden from June 25 to September 13. For up-to-the-minute information see the adult class schedule.
Int./Adv. Salsa
$17/class
Teacher and schedule subject to change. For up-to-the-minute info, see the adult class schedule.
Youth Classes
Family Fun: Salsa
$25/family of 2-3, $30/family of 4-6