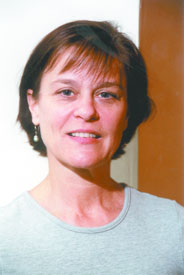 Loretta Thomas
Loretta Thomas has been performing and teaching in New York City since 1977. She studied on scholarship with Merce Cunningham, ballet with Maggie Black, and as an apprentice with Laura Dean. She has studied creative dance with Ellen Robbins, Chinese Movement forms with Master Cheng Hsing Yu and Isadora Duncan's work with Julia Levein, Hortense Kulooris, Lori
Belilove and Catherine Gallant. Since 1993 she has been the owner and director of Moving Visions Dance in Tribeca. Loretta teaches a variety of classes from Duncan technique and Chi/Dance to her Dance for Children and Teenagers program.
Adult Classes
Open Level Duncan Technique
$17/class
Class takes place the second Saturday of every month. For up-to-the-minute information see the adult class schedule.
Open Level Duncan Technique
Open Level Duncan Technique
Open Level Duncan Technique