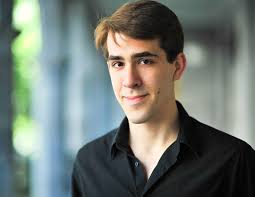 Edmund Milly
Brooklyn-based bass-baritone Edmund Milly is quickly distinguishing himself as a sensitive and dynamic performer of early music, oratorio, art song, and anything else which inhabits the interstitial spaces of the classical vocal repertoire of the past millennium. A passionate interpreter of Bach, Edmund recently made his Lincoln Center debut as Jesus in the St. John Passion under Masaaki Suzuki, a performance which was described as "authoritative and confident" (seenandheard-international.com). As soloist or chorister, he sings with such groups as the GRAMMY-nominated Choir of Trinity Wall Street, Mark Morris Dance Group, Spire Chamber Ensemble, Trident, The Thirteen, Yale Schola Cantorum, the Studio de Musique Ancienne de Montréal, and Ensemble Caprice. Additionally, he has been a featured soloist on several BBC and CBC radio broadcasts.
Milly's musical education began with cello lessons at age 3. While at the American Boychoir School in Princeton, New Jersey from 1997 to 2001, he amassed a number of formative musical experiences while singing under the batons of Seiji Ozawa, Kurt Mazur, James Levine, and André Previn on numerous occasions, and gained early exposure to repertoire he still performs. Milly received his Bachelor of Music with Distinction from McGill University. He also holds a B.A. with Distinction and an M.A. from McGill in English Literature, studies which have enhanced his interpretive and expressive capabilities as a singer. These eclectic experiences ultimately led Milly to the Yale Institute of Sacred Music, where he continued his vocal education with an M.Mus. as a member of the elite Yale Voxtet and a student of James Taylor. Yale Schola Cantorum provided the perfect context to grow as both a soloist and as an ensemble musician under the direction of David Hill, Masaaki Suzuki, and Simon Carrington.
An avid contrapuntist, Milly has traveled to Venice to demonstrate techniques of polyphonic improvisation in the style of the 16th century with a quartet tutored by Peter Schubert. At first by chance, and then by design, he has relished opportunities to perform a number of lesser-known gems by outstanding early music composers from Arrigoni to Zelenka. An intrepid explorer of vocal repertoire outside of his own "Western art music" comfort zone, Milly has also studied and performed shape-note hymnody, as well as sacred and secular vocal folk polyphony from Bulgaria, the Republic of Georgia, Corsica, and South Africa, on tour with Northern Harmony for months at a time. Unfazed by eclectic repertoire, he has performed 140 of Elvis Presley's greatest hits – in alphabetical order – for an audience of thousands with the Collège Vocal de Laval, a 16-voice pro group under the direction of pop star Gregory Charles whose repertoire ranges from Mozart to Céline Dion. Milly's own choral compositions have been premiered by Northern Harmony and by Ensemble Inversus, an un-conducted vocal ensemble which he founded and directs.