Explore. Collaborate. Create. Perform.
During the 2020-21 academic year, Arts Immersion is on hiatus as it transitions to a Fellowship structure. When applications open, accepted students in this free program will delve deeply into all aspects of dance, including choreography, production, and arts administration. The Arts Immersion Fellowship will retain the opportunities of the original program while simultaneously providing participants with a highly curated experience that focuses and builds on each individual Fellow's area of interest.
Arts Immersion Fellows will be selected via an application process. Four to five self-motivated, creative dance students will meet once a week for one academic year while also participating in individual experience to develop expertise in a track of their choosing. The Arts Immersion Fellows will ultimately collaborate to produce a culminating event. Continue to check this page for more information.
Anticipated Application Date Opening – August 2021
---
Learn more about Arts Immersion
---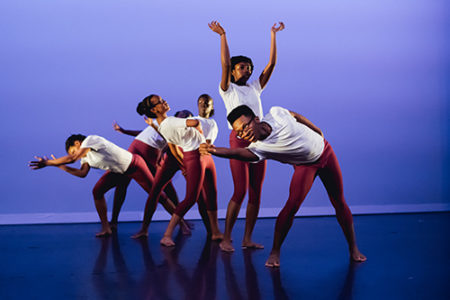 Cultivating the Next Generations of Arts Leaders
"This is a program which gives you that opportunity to grow a lot as a dancer, choreographer, and overall as an artist, and it really cultivates your creativity." – Mengwe Wapimewah (2018-19 Arts Immersion student) Read more >
---
Students will explore and gain skills in the following areas:
EDUCATION: developing curriculum and syllabi, creating lesson plans, articulation, and directing movement
PRODUCTION & MARKETING: Required personnel for production, performance language & etiquette, lighting/sound design, costume/make-up, scheduling, branding, audience building, digital presence
PERFORMANCE & MOVEMENT GENERATION: composition skills, music, improvisation, collaboration, critique/feedback, field trip to see MMDG perform, student choreography and student driven, inspired, and produced performance