Explore. Collaborate. Create. Perform.
Centered on developing career skills for future arts leaders, students in this free fellowship opportunity will have the opportunity to delve deeply into an aspect of the dance industry that interests them most, including management, marketing, choreography, production, and more.
Chosen for their dedication and commitment to the arts, the young adults (15-21) who are selected as Arts Immersion Fellows will meet weekly to discuss topics relevant to their selected tracks, as well as meet with leaders in the field. Outside of the weekly cohort, fellows will collaborate to create a schedule specifically to support their specific interests. Each Fellowship cohort will produce a culminating project in a design of their own making.
Four to five Arts Immersion Fellows are selected via an application process. Fellows receive a full scholarship to their Arts Immersion class and one additional elective dance class in The School at the Mark Morris Dance Center. The Arts Immersion Fellows will ultimately collaborate to produce a culminating event.
Applications open August 2, 2021 and close September 24, 2021. Classes in this program begin October 4 and run through June 13, 2022.
| | | |
| --- | --- | --- |
| Arts Immersion – by application only | Ages 15+ | Monday @ 5:15-6:15pm |
Learn more about Arts Immersion
---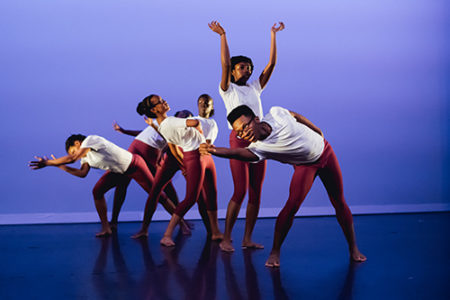 Cultivating the Next Generations of Arts Leaders
"This is a program which gives you that opportunity to grow a lot as a dancer, choreographer, and overall as an artist, and it really cultivates your creativity." – Mengwe Wapimewah (2018-19 Arts Immersion student)
---
Students will explore and gain skills in the following areas:
EDUCATION: developing curriculum and syllabi, creating lesson plans, articulation, and directing movement
PRODUCTION & MARKETING: Required personnel for production, performance language & etiquette, lighting/sound design, costume/make-up, scheduling, branding, audience building, digital presence
PERFORMANCE & MOVEMENT GENERATION: composition skills, music, improvisation, collaboration, critique/feedback, field trip to see MMDG perform, student choreography and student driven, inspired, and produced performance