Company members Brandon Cournay and Domingo Estrada, Jr. talk about our Community Engagement programs on tour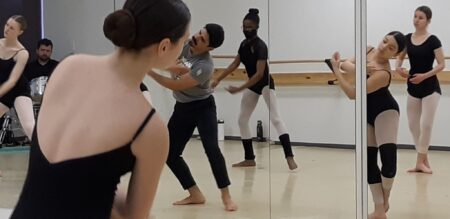 Domingo Estrada, Jr. (center, gray t-shirt) teaches a modern dance technique class to first year students at the University of Illinois Urbana-Champaign.
Community Engagement is central to our mission, and throughout our touring season, we collaborate with our presenters to offer a variety of classes at public and private schools and universities, local community organizations, and senior centers. During our recent weeklong residency at The Krannert Center, we hosted nearly a dozen classes for children, college students, seniors, and community members of all ages, with and without disabilities.
Company members Brandon Cournay and Domingo Estrada, Jr. led our community classes in Urbana-Champaign, Illinois last week, and shared some highlights from their experiences.
What is most enjoyable about the community classes we host while on tour?
Brandon: Working with a community that already has a deep connection to Mark's work is really fun. There is a buzz and excitement around the Dance Group coming to The Krannert Center which is palpable on stage and in the community programming. It feels like we are constantly building on what we created from years prior, scaffolding the experience for all.
Domingo: The best part about outreach is connecting with the community through movement, art, music and conversation – storytelling. Sharing what I love to do will, hopefully, inspire others and provide information for the dance(s) we perform. 
What classes did you lead this past week? Are there any highlights you'd like to share? 
Brandon: I taught a Dance for PD class and a Creative Movement class for young dancers. A highlight was introducing the dancers in the PD class to how complicated Burt Bacharach's music is! These hum-able tunes are surprisingly mathematical and complex when you break them down. We had a great music theory lesson as we paired Mark's movement with the music. 
Domingo: I had the privilege of teaching many students at various ages and levels. The highlight for every class I teach is getting to see when one or more students are completely engaged with a purpose to learn something new.
What does it mean to you personally to share your artistry and the Dance Group repertory with the communities where we perform?
Brandon: It's super special! Building a seamless connection between the stage, studio, and community creates an immersive and robust experience for people to connect with Mark's work. We are such a multi-faceted organization — these community events really highlight the many aspects of the Mark Morris Dance Group. It feels like we build a mini-Dance Center whenever we are on the road. 
Domingo: When students have the opportunity to see a Dance Group performance, and they are able to recognize movement shared in class… getting to interact and have a dialogue about their experience can be so satisfying. We become connected, and that is beautiful.
Discover how we build community through dance
"I am always honored to share and connect with all communities."
– Domingo Estrada, Jr.