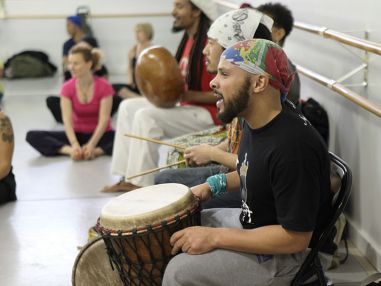 West African Dance
West African Dance explores the fundamentals of West African culture and tradition through music and dance. The musicality, traditions and various techniques introduced in these classes will connect with dance techniques of Africa and its diaspora including, but not limited to, the dances of Mali, Guinea and Senegal, afrobeat, afro house, and more. Students learn to execute polyrhythmic patterns and practice multiple types of call & response cues performed both verbally and physically. Our classes explore the use of weight, body isolations, and dancing with the drummer.
---
2020 – 2021 Dates
Quarter 1: September 29 – November 30, 2020; Registration closed
Quarter 2: December 1, 2020 – February 8, 2021; Registration closed
Quarter 3: February 20 – April 24, 2021; Registration closed
Quarter 4*: April 26 – June 26, 2021; Registration opens March 22, 2021
---
* In Quarter 4, our dance classes will be delivered in a hybrid format, blending in-person classes with reduced capacity and online classes. Students who register for the hybrid format will attend class in-person every other week of the quarter. On the weeks they are not in-person, they will participate at home via Zoom. All classes will continue to have options for 100% online registration.
---
Need based scholarships are available to qualifying students. The application period will open on March 22.
Please Note: There is no hybrid option available for this class.
Recommended Experience Level: 0-3 years
Open Level West African Dance (ages 6-12)
April 30 - June 25, 2021 | Fridays 4:15 pm - 5:15 pm