Mark Morris Dance Center
3 Lafayette Avenue, Brooklyn, New York — United States
SharedSpace provides an informal platform for choreographers of all styles to present in-progress work to diverse audiences, with feedback conversations guided by established dance artists. Join us to provide encouragement, critique, and community.
7:15pm – Doors Open
7:30-8:30pm – Performances
8:30-9:30pm – Feedback Conversation
$10/person
Featuring:
Alexandra Dombroski presenting High Tide
JACKS presenting Can you come outside?
Aleixa Freire + Molly Kennedy presenting Completely Someone Knew 
Brandon Coleman presenting EVERYBODY KNOWS
Adriane Erdos presenting Creation
MODERATOR: The Lovelies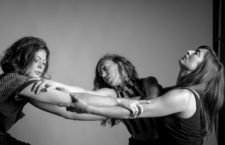 The Lovelies are a 4th generation compositional improvisation company working to uncover, establish and conclude the present through curiosity and discovery. Along with a live musician, the making of dance, sound, spatial- and time-based decisions in the moment allow The Lovelies to question the possibilities and generally help, hinder, destroy and create pieces in the moment.
Celebrating their 5th year in 2018, The Lovelies have been presented by Judson Church, Triskelion Arts, The Gershwin Hotel, Manhattan Inn, among others. The Lovelies produce the series Slice & Dice to provide a space residency for artists to create long form dances.