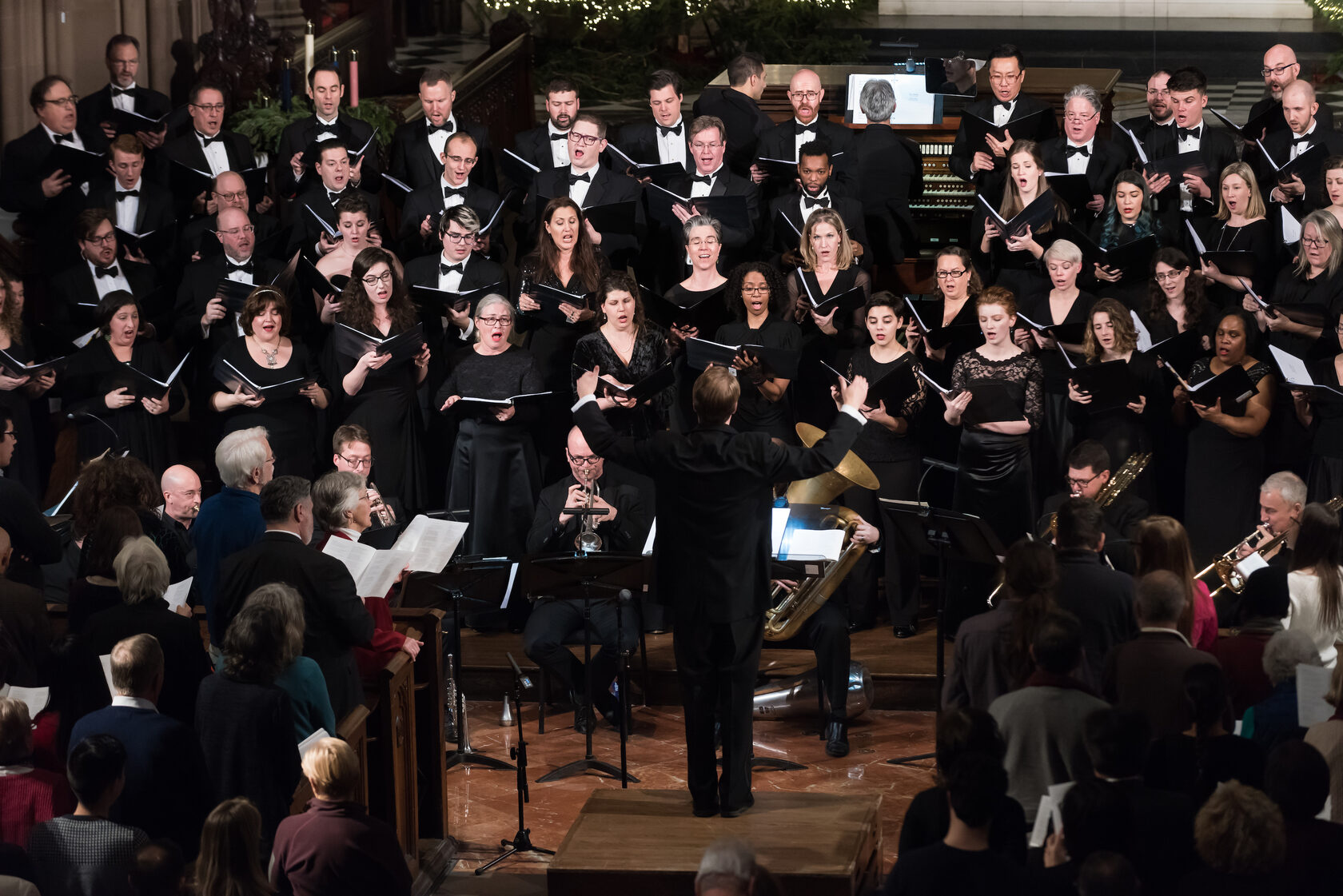 The Choir of Trinity Wall Street
THE CHOIR OF TRINITY WALL STREET, peerless interpreters of both early and new music, has redefined the realm of 21st-century vocal music, breaking new ground with artistry described as "blazing with vigour…a choir from heaven" (The Times, London). In addition to providing music for all liturgies at Trinity Church and St. Paul's Chapel, the choir can be heard in many other concerts and festivals throughout the year, often with NOVUS NY, the Trinity Baroque Orchestra, and the Trinity Youth Chorus. The choir has toured extensively throughout the United States, making appearances at Carnegie Hall, Lincoln Center, the Metropolitan Museum of Art, The Shed at Hudson Yards, the Kennedy Center, Walt Disney Concert Hall, and the PROTOTYPE Festival, with partners such as Bang on a Can All-Stars, the New York Philharmonic, and the Rolling Stones. Increasingly in-demand internationally, the choir has also performed at Montreal's Salle Bourgie, Paris's Théâtre des Champs-Élysées, Norway's Stavanger Cathedral, and London's Barbican Theatre. In addition to the Grammy Award-nominated recordings Luna Pearl Woolf: Fire and Flood and Handel's Israel in Egypt, The Choir of Trinity Wall Street has released recordings on Naxos, Musica Omnia, Pentatone, VIA Recordings, ARSIS, Avie Records, Acis, Cantaloupe Music, Decca Gold, and Philip Glass's Orange Mountain Music. Trinity's long-term commitment to new music has led to many collaborations with living composers including Ellen Reid, Du Yun, Trevor Weston, Paola Prestini, Luna Pearl Woolf, Ralf Yusuf Gawlick, Elena Ruehr, and Julia Wolfe, whose 2015 Pulitzer Prize-winning and Grammy Award-nominated work Anthracite Fields was recorded with the choir. Along with NOVUS NY, the choir also collaborated on and recorded two Pulitzer Prize-winning operas: Du Yun's Angel's Bone and Ellen Reid's prism.
DOWNTOWN VOICES, praised by the New York Times for its "incisive, agile strength," is a semiprofessional choir made up of volunteer singers and GRAMMY®-nominated members of The Choir of Trinity Wall Street. Directed by Stephen Sands since its 2015 inception, Downtown Voices has performed works by Beethoven, Brahms, Rachmaninoff, Pärt, Webern, Ginastera, Janáček, James MacMillan, and Philip Glass, in addition to premiering Spire and Shadow by Zachary Wadsworth, a large-scale commission for the 250th anniversary of St. Paul's Chapel. Recently, the group performed several "Community Carol Sing" concerts, Arvo Pärt's Passio, Beethoven's Mass in C, a celebration of the past hundred years of Estonian composition, a program featuring Dvořák's rarely performed Mass in D and Britten's Hymn to St. Cecilia, a virtual performance of works by Adolphus Hailstork, and a stunning season finale concert featuring Orff's Carmina Burana. Downtown Voices was recently featured in a concert with Andrea Bocelli at Madison Square Garden and can be heard on the epic recording Philip Glass: Symphony No. 5 released by Orange Mountain Music.