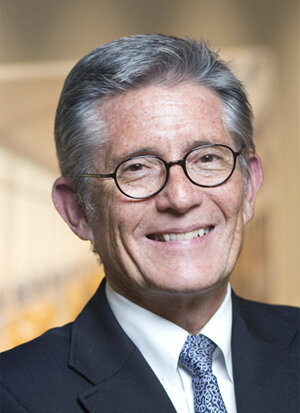 Frederick Bland
Frederick Bland has provided design leadership over the past 42 years for educational, residential and cultural facilities in both the U.S. and China. He has directed downtown redevelopment plans nationally, working with clients that require options for long-term growth. Mr. Bland began his career at Beyer Blinder Belle in 1972, became the first non-founding partner in 1978, and Managing Partner in 2004. An Adjunct Professor in the History of Art Department of New York University since 1990, he has also lectured on design at Yale University, Columbia University, Pratt and City College. He has been a member of the Vestry of Trinity Church, Wall Street since 2004; Chairman of the Brooklyn Botanic Garden since 2007; Chairman of the Fitch Foundation since 2012, Chairman of the Evergreens Cemetery Preservation Foundation since 2014. Since 2008 he has served as a commissioner of the Landmarks Preservation Commission of New York.
Mr. Bland was Partner-in-Charge of the Shanghai Cultural Plaza, a large new theater for the performing arts in the Luwan District of Shanghai; Nanjing West Street, an urban design and historic preservation plan which runs through the heart of Shanghai People's Square Historic District; and the China Academy of Science's Dalian Science and Technology Innovation Park and Innovation Building.
In addition to designing the Mark Morris Dance Center in Brooklyn, other notable projects include: The Muhammad Ali Center, Louisville, Kentucky; New York's General Theological Seminary; a new mixed-use development/hotel, 42nd Street; and over 20 new residential buildings. Mr. Bland has completed extensive programming and renovation for the NYU Tisch School of the Arts, SUNY Stony Brook and Yale University, and a master plan for the University at Buffalo. Mr. Bland has served on a number of civic boards including the Brooklyn Heights Association, where he was president from 1992 to 1994; the Brooklyn Historical Society; a founding member of the Friends of Education Committee at the Museum of Modern Art; and the New York Foundation for Architecture, where he was president in 2000; and the Rembrandt Club, where he was president from 2001 to 2003. He received his Bachelors and Masters degrees from Yale University in 1968 and 1972, respectively.