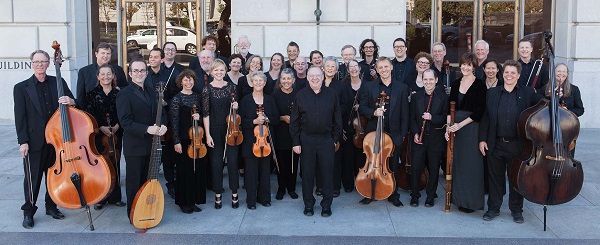 Philharmonia Baroque Orchestra
Founded by in 1981 by harpsichordist and early music pioneer Laurette Goldberg, Philharmonia Baroque Orchestra has been dedicated to historically informed performance of Baroque, Classical and early-Romantic music on original instruments. Using authentic instruments and stylistic performance practices of the baroque to early-romantic periods, the Orchestra engages audiences through performances, tours, education, community outreach, and recordings of the highest standard. Under Music Director Nicholas McGegan, Philharmonia Baroque was named Ensemble of the Year by Musical America in 2004. The Orchestra performs an annual subscription series in the San Francisco Bay Area and is regularly heard on tour in the United States and abroad. The Orchestra has its own professional chorus, the Philharmonia Chorale, directed by Bruce Lamott and welcomes such talented guest artists as mezzo-soprano Susan Graham, countertenor David Daniels, conductor Jordi Savall, forte pianist Emmanuel Ax, conductor Masaaki Suzuki, and violinist Rachel Podger.

The Orchestra has had numerous successful collaborations with celebrated composers and choreographers. Philharmonia premiered its first commissioned work, a one-act opera by Jake Heggie, entitled To Hell and Back, in November 2006. In collaboration with the Mark Morris Dance Group, Philharmonia Baroque gave the U.S. premieres of Morris' highly acclaimed productions of Henry Purcell's King Arthur and Jean-Philippe Rameau's ballet-opera Platée.

Among the most recorded period-instrument orchestras in the United States and Europe, Philharmonia Baroque has made 32 highly praised recordings—including its Gramophone award–winning recording of Handel's Susanna—for harmonia mundi, Reference Recordings, and BMG. In 2011 the Orchestra launched its own label, Philharmonia Baroque Productions, with an acclaimed recording of Berlioz's Les Nuits d'été and Handel arias featuring mezzo-soprano Lorraine Hunt Lieberson. Visit Philharmonia Baroque's website for more information.