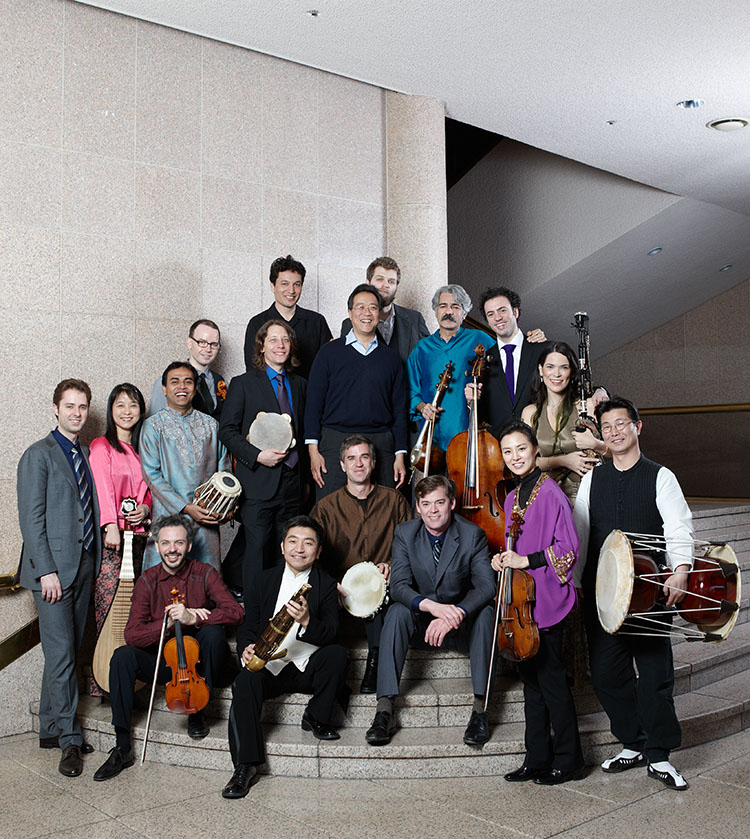 The Silk Road Ensemble
Inspired by his curiosity about the world and eager to forge connections across cultures, disciplines, and generations, cellist Yo-Yo Ma founded the nonprofit organization Silkroad in 1998. Through Silk Road Ensemble performances, the creation of new music, and programs for educators and teaching artists, Silkroad is committed to exploring the role of the arts in fostering cross-cultural understanding, deepening learning, and promoting innovation.
With a conviction that by exploring our differences we enrich our humanity, this community of globally minded artists, passionate learners, and cultural entrepreneurs strives to create unexpected connections, collaborations, and communities in pursuit of meaningful change. Recognizing every tradition as the result of successful innovation, Silkroad works at the edge where education, business, and the arts come together to spark new ways of looking at our world.
The Silk Road Ensemble was formed in 2000 as a way of bringing together innovative performers and composers representing traditions from around the world. Since that time, the Ensemble has been redefining music for 21st-century audiences. The group has been called "vibrant and virtuosic" by the Wall Street Journal, "one of the 21st century's great ensembles" by the Vancouver Sun, and a "roving musical laboratory without walls" by the Boston Globe.
The Silk Road Ensemble performers and composers hail from more than 20 countries. Passionate about learning from one another's traditions and incorporating them into their own artistic voices, these rooted explorers co-create art, performance, and ideas. Through engaging, high-energy programs, the Silk Road Ensemble draws on a rich tapestry of traditions that make up our shared cultural heritage, creating a new musical language—an engaging and accessible encounter between the familiar and the previously unknown.
Throughout Asia, Europe and North America, the Silk Road Ensemble has performed for more than 1.8 million people, in some of the world's most lauded venues including Carnegie Hall, Suntory Hall, the Concertgebouw, and the John F. Kennedy Center for the Performing Arts. Ensemble performances have also highlighted the Nobel Prize celebrations in Stockholm, the Sir Bani Yas Forum in the United Arab Emirates, the Special Olympics in Shanghai, the Lucerne Festival in Switzerland, and London's BBC Proms.
The group has recorded six albums. Their new album, Sing Me Home, will be released in April 2016. The Music of Strangers: Yo-Yo Ma and the Silk Road Ensemble, a documentary by Academy Award-winning filmmaker Morgan Neville (20 Feet From Stardom), premiered at the Toronto Film Festival in September 2015 and will have its European premiere at the Berlin Film Festival in February 2016. The film will be released in theatres in June 2016.
Learn more by visiting silkroadproject.org.