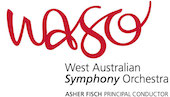 West Australian Symphony Orchestra
The West Australian Symphony Orchestra (WASO) is Western Australia's largest and busiest performing arts company. Established in 1928, WASO is the state's only professional orchestra, playing a central role in the cultural life of Western Australia.
WASO's vision is to touch souls and enrich lives through music. Each year the Orchestra reaches out into the community and gives people across Western Australia and beyond the opportunity to experience the magic of classical music through concert performances, touring, education programs, and other initiatives. The Orchestra performs over 140 concerts each year with some of the world's finest conductors and soloists to an audience in excess of 200,000. In addition to its own concerts, WASO regularly performs with the West Australian Opera and West Australian Ballet.
Under the guidance of Principal Conductor & Artistic Adviser Asher Fisch, WASO's 82 full-time musicians perform a broad range of music designed to reach a wide cross-section of the community at venues across Perth including the Perth Concert Hall, Langley Park, Riverside Theatre and Government House Ballroom. The Orchestra reaches an even larger audience across Australia and the world through concert webcasts, providing audiences with access to live and on-demand WASO performances. In addition, concerts are regularly broadcast on ABC Classic FM and are available on CD recordings.
WASO's award winning Education and Community program provides primary, secondary and tertiary students across Western Australia with access to musical experiences of the highest quality. With a commitment to visiting remote and regional locations, WASO on the Road and WASO's Education Chamber Orchestra (EChO) takes music to students in all corners of state.
Learn more at WASO's website.