This summer for two months only, we're bringing back our popular Video Vault series as Summer Cinema with the Mark Morris Dance Group. This new series will feature two free on-demand archival collections, one in July and one in August, as well as two livestreamed conversations with dancers and musicians, moderated by Company Director Sam Black and Music Director Colin Fowler respectively.
Bijoux and Double Through the Generations
Our first collection centers on distinct roles and solos performed by different generations of dancers in Bijoux and Double, the second movement from Mozart Dances.
We're also excited to welcome these artists in Bijoux and Double Through the Generations: A Live Conversation, livestreamed on August 2 at 8:00 PM ET (register through the button on the right). If you missed the livestream, you can watch the conversation on our YouTube channel through September 2.
Dancers for Bijoux: Lauren Grant, Teri Weksler, Megan Williams
Dancers for Double: Joe Bowie, Domingo Estrada, Jr., Aaron Loux
Moderator: Sam Black, MMDG Company Director
This on-demand collection will be available to stream through August 4 only.
BIJOUX
Music: Erik Satie – "Quatre petites mélodies" from 1920 and "Ludions" from 1923
Running time: 7 minutes
Premiere: December 8, 1983 at the Bessie Schönberg Theatre
Bijoux is set to Erik Satie's score for piano and voice with text by Léon Paul Fargue. Morris choreographed the work on MMDG dancer Teri Weksler, in her tiny New York City apartment in 1983. Morris described Weksler's apartment as "a little jewel box", and he choreographed the work within that confined space. In addition to Weksler and Morris, Bijoux has been performed by Lauren Grant, June Omura, and Megan Williams.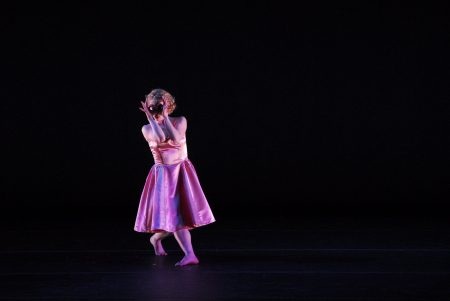 DOUBLE
Music: Wolfgang Amadeus Mozart – "Sonata in D Major for Two Pianos, K. 448″ from 1781
Running time: 26 minutes
Premiere: August 17, 2006 at New York State Theatre, Lincoln Center for the Performing Arts – Mostly Mozart Festival
Double is the second movement from the evening-length Mozart Dances, and features a prominent solo role that was premiered by Joe Bowie in 2006 at Lincoln Center's Mostly Mozart Festival. Mozart Dances has been performed many times over the last 15 years, has been recorded for broadcast, and Double has also been performed as a standalone work. In addition to Bowie, Aaron Loux and Domingo Estrada, Jr. have performed the role.