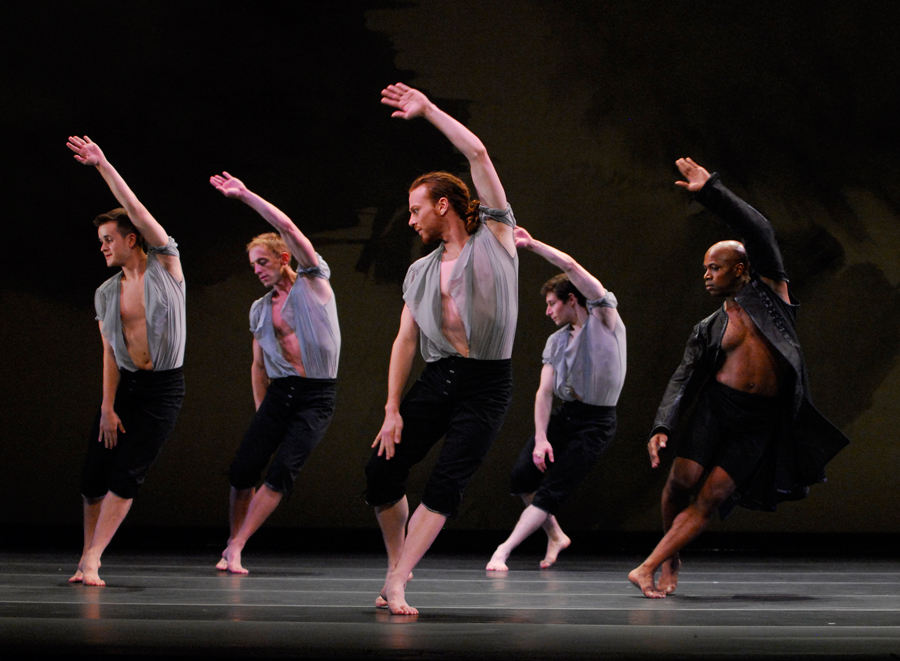 Double
Premiere
Lincoln Center for the Performing Arts – Mostly Mozart Festival
Mark Morris Dance Group - New York State Theater
View All Performance Listings
Commissioned by Lincoln Center for the Performing Arts (New York), New Crowned Hope (Vienna), and the Barbican Center (London).
Details List
| | |
| --- | --- |
| Choreography | Mark Morris |
| Music | Wolfgang Amadeus Mozart - Sonata in D Major for Two Pianos, K. 448 (1781) – Allegro con spirito, Andante, Allegro molto |
| Costume Design | Martin Pakledinaz |
| Lighting Design | James F. Ingalls |
| Instrumentation | 2 pianos |
| Number of Dancers | 16 |
| Runtime | 26 minutes |
Details
Double is the second section of Mozart Dances but can also be performed on its own as part of a repertory evening.
Sonata in D major for Two Pianos, K.448 (1781)
Upon arrival in Vienna in 1781, Mozart began to attract students. In letters to his father, Mozart made ugly comments about one of them, Josepha Auernhammer: "She is as fat as a peasant wench, perspires so much that you feel like vomiting, and walks about in such skimpy attire that you can read clear as day: 'Please look here.'" But he could not deny her gifts. After a few months of lessons, Mozart again wrote to his father about her, saying, in tones exceedingly generous for the hypercritical composer, "The young lady plays with charm."
At length, Mozart paid Auernhammer the ultimate compliment, writing for her this three movement work that treats two pianists as equal partners in a chamber-music experience. It would be Mozart's only score written expressly for two pianos, though he would pen many works for one piano with two players. Auernhammer and Mozart premiered it—with the composer playing the Piano II part—in November of 1781 in the Auernhammer home. The charm Mozart found in his student's playing translates into brilliant passagework, close-knit ensemble, and a typically graceful slow movement that is a fountain of melody.
Press Quotes
""Double opens to a striding convivial, courtly male world. Yet, in the middle section, one man dances alone, so lost in the immensity of the stage that your heart catches for him, until he is joined by the women of the company, dressed in white ballet skirts like exquisite visitors from another world.""

The Guardian

""…dancers, joined by their hands, seem to embark on a life journey. Together and in fraternity, they share the hardships and joys the trip imposes. The sheer simplicity of the movements conveys a feeling of poignant veracity." "

bachtrack

""…one of those little miracles that devoted fans and Morris newcomers alike can treasure.""

San Francisco Chronicle

""It is quite exhilarating and masterfully timed. The entire piece is filled with densely layered, repeating spatial patterns, abrupt changes of direction or level, quirky movements and touching moments...""

Seattle Fine Arts Examiner