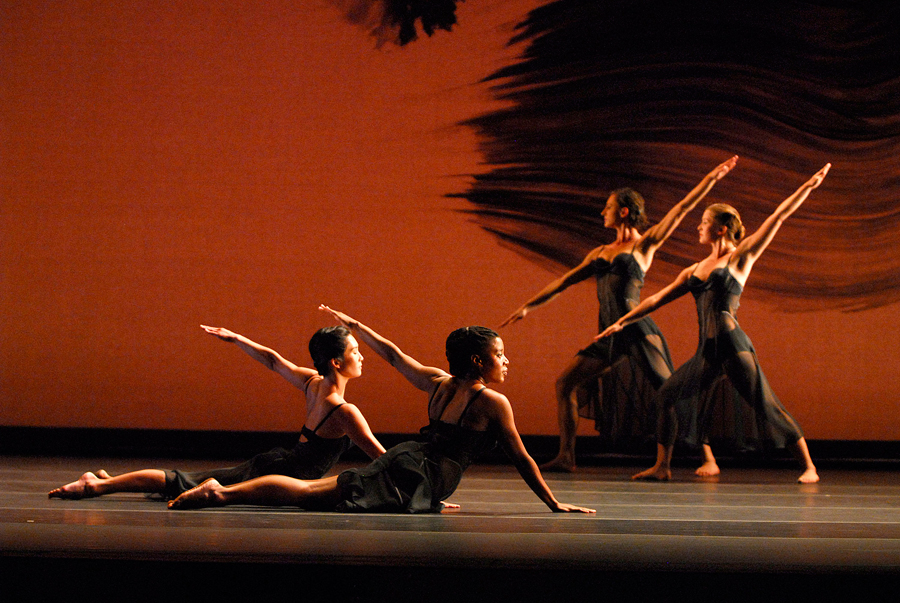 Eleven
Premiere
Lincoln Center for the Performing Arts – Mostly Mozart Festival
New York State Theater
View All Performance Listings
Commissioned by Lincoln Center for the Performing Arts (New York), New Crowned Hope (Vienna), and the Barbican Center (London).
Details List
| | |
| --- | --- |
| Choreography | Mark Morris |
| Music | Wolfgang Amadeus Mozart - Piano Concerto No. 11 in F Major, K. 413 (1782-82) – Allegro, Larghetto, Tempo di Menuetto |
| Costume Design | Martin Pakledinaz |
| Lighting Design | James F. Ingalls |
| Scenic Design | Howard Hodgkin |
| Instrumentation | 2 violins, viola, cello, piano |
| Number of Dancers | 15 |
| Runtime | 24 minutes |
Details
Eleven is the first section of Mozart Dances but can also be performed on its own as part of a repertory evening.
Piano Concerto No. 11 in F major, K.413 (1782–83)
One of three piano concertos Mozart composed upon his arrival in cosmopolitan Vienna from provincial Salzburg, this brightly virtuosic concerto has all the earmarks of a work intended to impress the listener with energy and invention. Yet the F-major concerto and its companions, K.414 in A and K.415 in C, were also meant to reach the great mass of music lovers in Vienna. In a letter to his father, the composer explained:
These concertos are a happy medium between what's too difficult and too easy—they are Brilliant—pleasing to the ear—Natural without becoming vacuous;—there are passages here and there that only connoisseurs can fully appreciate—yet the common listener will find them satisfying as well, although without knowing why.
The scoring is for pairs of oboes, bassoons, and horns, with the usual strings. Mozart also arranged this and the other concertos for chamber accompaniment of string quintet alone, in order to market the work for purchase and performance by the many amateur pianists of his newly adopted city. He took out a loan to publish the arrangements, and was shocked when they did not sell. He then took out another loan to cover the service on the first loan, so beginning the downward spiral of Mozart's finances, concluding in penury.
The concerto contains numerous unusual features. The swirling first movement is in 3/4—a meter found in a total of only three opening movements of Mozart's 27 piano concertos. The entrance of the soloist in the first movement is famously subtle, as if the pianist has simply appeared, unannounced, out of the orchestral fabric. Concerto No. 11 is also the last time Mozart will employ the stately minuet as the basis of a last movement. Most intriguingly of all, the concerto ends with a whisper. The only other time Mozart does that in a piano concerto is in K.415, the third score of this set.
Press Quotes
"Mark Morris has devised some of the finest choreography of his life, and his company dances it with surgical exactitude and tenderness."

Voice of Dance

"The choreography patterning, exits and entrances, and various combinations of dancers from solo to group, capture the ebb and flow of Mozart's musical genius."

Globe and Mail