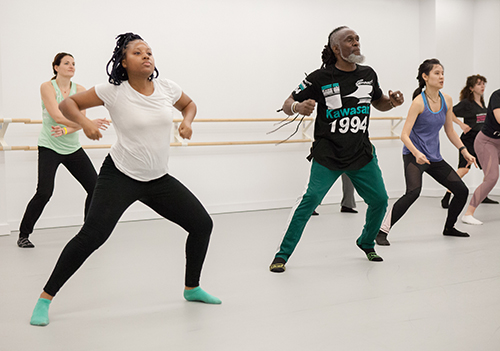 Jazz
Our jazz classes draw from a variety of historical and contemporary styles such as Broadway, commercial, funk, and classical. Jazz dance was born out of African dance, American tap dance, ballet, and theater, and is inherently related to the music that has evolved alongside it. Classes focus on syncopated rhythms, body isolations, and precision. Students will begin class with a warm-up, progress to across-the-floor exercises, and end with learning choreography.
This class explores several approaches to Broadway Jazz and features combinations inspired by classic choreographers such as Jerome Robbins, Bob Fosse, and Michael Bennett, as well as contemporary choreographers like Andy Blankenbuehler and Josh Bergasse. The class begins with a long warm-up consisting of a center barre, a strength and alignment series, and a long stretch. Every week the class breaks down aspects of jazz technique and ends with a long theater dance combination.
Based in the style of jazz/funk, this class incorporates syncopated rhythms, isolated body movements, and classic hip-hop and jazz moves. An excellent choice for dancers looking to expand their dance vocabulary in an upbeat environment with a strong focus on improving rhythm, coordination, and musicality.
Suggested Attire:
Comfortable clothing in which you can easily move
Jazz shoes, jazz sneakers, or thin socks, no street shoes
Please note:
As this is a popular class, we recommend pre-registering or arriving 30 minutes prior to the start of class for a drop-in.
Intermediate Jazz/Hip Hop
Mondays 7:00 pm - 8:30 pm
Teacher and schedule subject to change. For up-to-the-minute information see the adult class schedule.