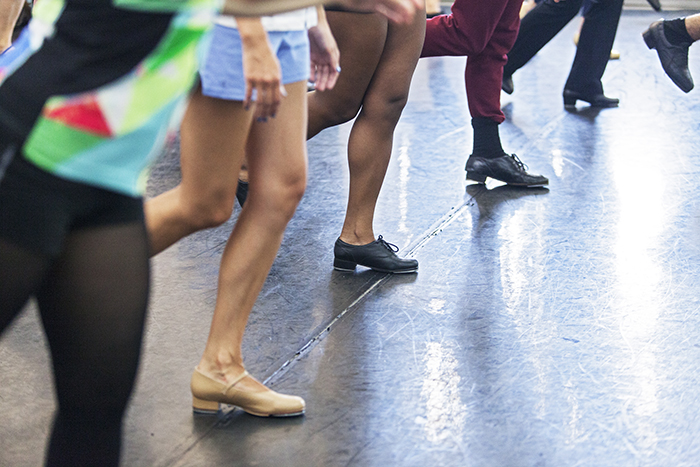 Tap
Tap dance is a percussive style that originated in the United States in the 1700s and is practiced using shoes with metal plates to create sound. Our tap classes draw from both Broadway and contemporary Rhythm-Tap styles and emphasize precision and musicality. Classes begin with foot isolating warm-ups, progress to rhythm and step-based skill building in the center of the room, and end with traveling across the floor. Students will also learn choreography and practice improvisation.
This series is designed for people who have taken Intro to tap I or have some experience with tap dance. You will further develop your skills in rhythm, syncopation, and musicality in a fun and non-competitive environment.
Price: See Class Rates, Policies, and Dance Center Information
Suggested Attire:
Comfortable clothing in which you can easily move

Tap shoes, sneakers or bare feet
---
Intro to Tap II
January 13 - February 17, 2024 | Saturdays 3:45 pm - 5:15 pm
A great opportunity to continue to hone and refine the skills developed in Intro to Tap. Students will continue the development of tap techniques while incorporating more challenging rhythmic structures, including syncopation. Students should be comfortable with basic tap vocabulary including straight and swang.
Building on principles learned in Beginning Tap, this Intermediate tap class continues the development of tap technique with a focus on speed, transitions, and style. Students should be comfortable with basic tap vocabulary including cramp rolls, riffs, irishes, draw backs, waltz clogs, maxi fords, and time steps.
Suggested Attire:
Comfortable clothing in which you can easily move
Tap shoes