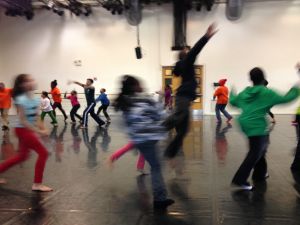 One-Week Children's Dance Camp
Fill your spring break with dance, music, and art! The School at the Mark Morris Dance Center's multi-disciplinary camp for all levels provides a full day of activities from dance with live music to visual art. In addition to daily technique classes in ballet and modern dance, students will explore a variety of styles from hip-hop, jazz, and African dance, yoga, and more. Campers will also learn about Mark Morris' choreography and use concepts to create their own dances.
Monday, April 22 – Friday, April 26, 2019
Registration: $325
Times: 
6-8 years old | 9:30am to 3pm | 0-2 years dance experience
7-9 years old | 9:30am to 3pm | 2+ years dance experience
9-12 years old |  10:30am to 4pm | all experience levels; at least 1 year recommended.
2 Hour Extended Day Options are available for an additional $100
This extended day option is for families looking for a full day of camp will include additional fun and energetic movement styles.
Ages 6-9 Extended Day | 3pm-5pm
Ages 10-12 Extended Day | 4pm-6pm