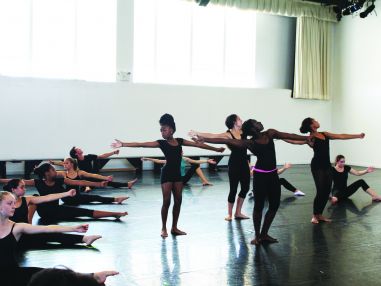 Summer Dance Workshop (Teens)
One Week Beginner Teen Workshop
Welcome to the world of dance. Discover ballet, modern, jazz, and hip-hop techniques in a safe and positive environment, while meeting other teens that share your interest in movement, music, and performance. The workshop concludes with an informal showing for family and friends.
July 13-17, 2020
Registration opens Tuesday, December 3, 2019
---
One or Two-Week Intermediate/Advanced Teen Intensive
Technique. Choreography. College Conversations.
Explore the innovative and challenging work of Mark Morris while deepening training in ballet and modern dance. In addition, expand your creative voice with improvisation and develop your understanding of college opportunities through conversations with professionals in the field.
Requirements: Students should have at least three years of training in both ballet and modern dance.
July 20-31, 2020
One-Week Beginner Teen Workshop
July 13 - 17, 2020 | 3:00 pm - 6:00 pm
Two-Week Intermediate/Advanced Teen Intensive
July 20 - 31, 2020 | 12:00 pm - 6:00 pm
One-Week Intermediate/Advanced Teen Intensive
July 20 - 24, 2020 | 12:00 pm - 6:00 pm
One-Week Intermediate/Advanced Teen Intensive
July 27 - 31, 2020 | 12:00 pm - 6:00 pm