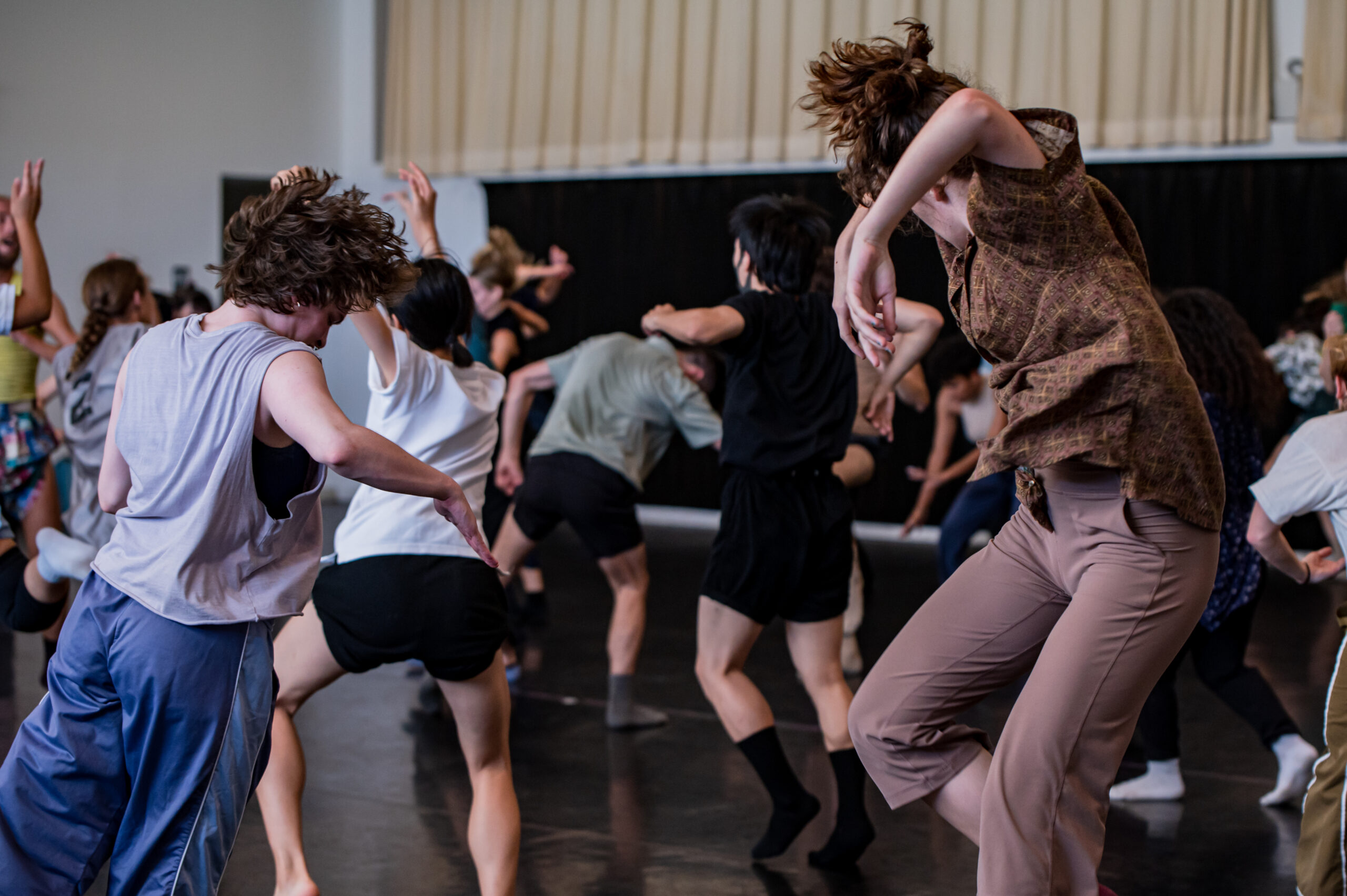 GagaLab Winter 2024
Join us for GagaLab Winter 2024: 6 days of intensive physical research, with a sense of plenty of time for process and discovery. Rooted in Ohad Naharin's evolving movement language, GagaLab offers a framework to develop your artistry while connecting to your skills, imagination, and passion to move.  Awaken your senses and turn on your engines in morning Gaga/dancers classes.  Then apply Gaga tools to Naharin's renowned, challenging choreography in daily repertory sessions, and deepen your understanding of Gaga in afternoon Gaga/metodika classes.
GagaLab Winter 2024 is intended for professional dancers and advanced dance students age 18+.
---
Dates: January 2-7, 10:00 am – 4:00 p.m. each day (*January 4 & 6 will finish at 4:30 p.m., and January 7 will finish at 2:00 p.m.)
Location: Mark Morris Dance Center – 3 Lafayette Avenue, Brooklyn, NY
---
Faculty: Kyle Scheurich, TBA.
---
Application:
To apply, complete the following 3 steps: 
Pay the non-refundable $45 application fee here.
Complete the application form. As part of the form, you must provide a link to a video of your dancing.  The video should be 2 minutes in length.  Share your skills and your passion to move.  You must be clearly and completely visible, with no other dancers in the video. 
Email your CV in English to GagaLab@gagapeople.com with the subject line: GagaLab NY Application
GagaLab will not consider any incomplete applications and will not review your application until the application fee has been paid. If your application fee is paid under a different name, notify Gaga by email at GagaLab@gagapeople.com
Accepted dancers will be invited to register via Mark Morris Dance Center's registration platform within 2 weeks of applying. Tuition is due within 1 week of notification in order to reserve your spot.
---
Additional Resources: 
Application & Registration Procedures
Terms & Conditions – including cancellation policy. Please communicate any cancellations to GagaLab@gagapeople.com
See tabs below for Schedule, Tuition and Cancellation information, and COVID-19 policies.
If you need additional info, please refer to GagaLab's webpage.
If you have any additional questions, please email GagaLab@gagapeople.com with the subject line: GagaLab NY.
Photo credits: Gadi Dagon (banner photo) & Effy Grey Photography (featured photo)
Schedule
Gaga/dancers:
This class is very similar to the daily class that is given to the Batsheva Dance Company dancers.
Ohad Naharin's Repertory:
Learn excerpts of Ohad Naharin's choreographic works from the company's dancers and teachers. In this class, dancers apply their training in Gaga to the repertory.
Gaga/Metodika:
This class will enable dancers to work in a different mode and study the most fundamental elements of Gaga in a deeper way.
Sample Daily Schedule (subject to change):
| | |
| --- | --- |
| Gaga/dancers class | 10:00am – 11:15am |
| Repertory | 11:30am – 1:30pm |
| Lunch break | 1:30 – 2:30pm |
| Gaga/Metodika | 2:30pm – 4:00pm |
Tuition and Cancellation Policy
Application fee: $45 (non-refundable), due at the time of application
Tuition: Tuition is due within 1 week of acceptance.
$680 early bird – apply in full by Nov. 1, pay in full by Nov. 10
$750 regular – apply after Nov. 1, until our program is full
---
Cancellation Policy
Dancers who cancel must first notify the cancellation to gagalab@gagapeople.com prior to receiving any refund.
If you reserved a spot and need to cancel, please notify Gaga immediately at gagalab@gagapeople.com.
If you cancel up until 2 months prior to the start of the course: you will receive a full refund of the tuition.
If you cancel between 2 months and 1 month prior to the start of the course: you will receive a 50% refund of the tuition.
If you cancel within 1 month of the start of the course: if we can find a dancer to take your place, you will receive a 50% refund of the tuition. Otherwise, there is no refund.
Covid-19, and Health and Safety Policies
Proof of vaccination will no longer be required for the public (students, renters, visitors) to enter the Dance Center. However, select programs and/or events may maintain a vaccination requirement for participation. Vaccination continues to be strongly recommended for all and will still be required for MMDG employees and independent contractors (artists, staff and faculty).
Wearing a mask will be optional but encouraged. Masks will be required for select programming and strongly recommended for people who are not vaccinated. Masks will be available at our front desk for those who need them.
Dancers should review the Health and Safety Updates page on our website prior to arriving at the Dance Center.
GagaLab Winter 2024
January 2 - 7, 2024 10:00 am - 4:00 pm
For professional dancers and dance students 18+