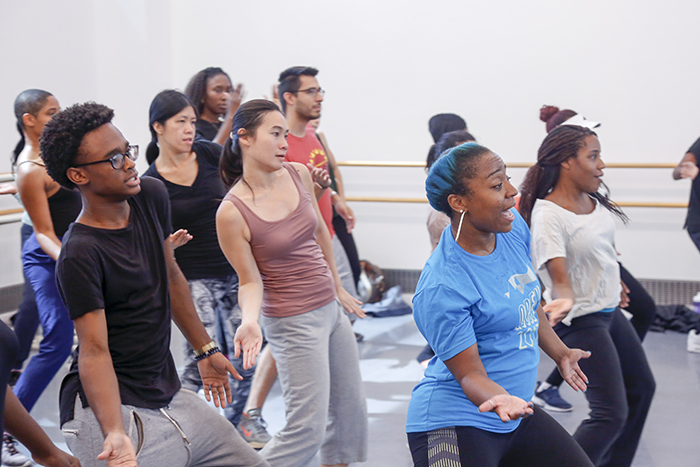 Hip-Hop
Born in New York City in the 1970s, Hip-Hop dance is an element of Hip-Hop culture. Our classes begin with a community building warm-up, followed by skill building exercises and drills in the center of the room. Students will explore their personal voice through freestyle as well as through a wide range of codified styles, including breaking, popping, and locking. Classes culminate in choreography and a cypher style improvisation.
This series of classes is designed for students who have taken Intro to Hip-Hop or are beginners who have relatively little experience with Hip-Hop dance and want to continue to explore. This is a great place to develop and sharpen your skills in the basics of hip-hop dance including freestyle, popping, and locking in a non-competitive, fun environment.
Price: See Class Rates, Policies, and Dance Center Information
Suggested Attire:
Comfortable clothing in which you can easily move
Sneakers
Intro to Hip-Hop II
November 4 - December 16, 2023 | Saturdays 3:30 pm - 5:00 pm
No classes November 25, Thanksgiving Weekend.
This class is a great opportunity for students to build on and improve their hip-hop dance skills. Dancers will focus on the fundamentals of freestyle, choreography, and hip-hop culture. This class is for students who have taken the Intro to Hip-Hop Series or have some experience with hip-hop dance.
Based in the style of jazz/funk, this class incorporates syncopated rhythms, isolated body movements, and classic hip-hop and jazz moves. An excellent choice for dancers looking to expand their dance vocabulary in an upbeat environment with a strong focus on improving rhythm, coordination, and musicality.
Suggested Attire:
Comfortable clothing in which you can easily move
Jazz shoes, jazz sneakers, or thin socks, no street shoes
Please note:
As this is a popular class, we recommend pre-registering or arriving 30 minutes prior to the start of class for a drop-in.
Intermediate Jazz/Hip Hop
Mondays 7:00 pm - 8:30 pm
Teacher and schedule subject to change. For up-to-the-minute information see the adult class schedule.