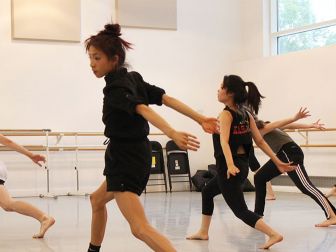 Modern Dance
We are proud to be Brooklyn's home for modern and contemporary dance. Our weekly classes offer students the opportunity to work with a stellar faculty of experienced teachers, innovators and musicians. Students can deepen their understanding of the foundation and traditions of modern dance by working directly with MMDG dancers who infuse Mark Morris' classic choreography into their combinations. Students can also be a part of the cutting-edge contemporary movement, learning from artists who are shaping the future of modern dance today.
Join us for conveniently-located, moderately-priced training in a warm environment that nurtures dancers to reach their full potential.
Contemporary Dance Styles:
With the guidance of artists from the New York City dance scene, students engage in improvisation, floor work and technical exercises to improve their full-body fluidity, artistic expression and dynamic specificity using vocabulary that is relevant in today's contemporary world.
Modern Dance Styles:
Drawing on many styles of classical modern dance, these classes focuses on contractions, spirals, basic floor work, and elemental concepts of space, time and force developing technical proficiency, musicality, rhythmic accuracy.
Suggested Attire:
• Comfortable clothing in which you can easily move. Leotard optional.
• Class is taken barefoot.