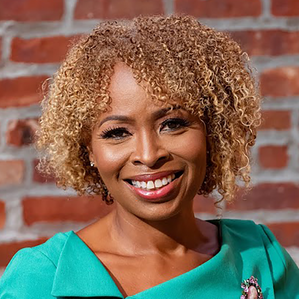 Jocelynne Rainey, Ed.D
Dr. Jocelynne Rainey, Ed.D. is a seasoned executive with over 20 years of management experience and a leader in the nonprofit sector in New York City. Dr. Rainey joined Brooklyn Community Foundation in December 2021, at an exciting moment of growth and opportunity for the Foundation. As President & CEO of Brooklyn Community Foundation, Dr. Rainey oversees and develops strategic initiatives, innovative programs, and community-centered philanthropic services that embody the Foundation's deep commitment to racial justice while furthering its mission to spark lasting social change for a fair and just Brooklyn.
Before joining the Foundation, Dr. Rainey served as CEO and President of Getting Out and Staying Out (GOSO), a leading citywide nonprofit serving justice-involved individuals. At GOSO she oversaw programming which has helped more than 10,000 young men access education, achieve emotional well-being, and secure meaningful employment since its advent 16 years ago. GOSO's innovative workforce development program, GOSOWorks, has placed hundreds of justice-involved young men in paid internships and permanent jobs in numerous growth industries in the New York metropolitan area.
Previously, Dr. Rainey was Executive Vice President and Chief Administrative Officer for the Brooklyn Navy Yard Development Corporation (BNYDC), leading workforce development, administration, security, and human resource strategies for the organization. She established impactful partnerships in order to connect underserved communities in Brooklyn with career opportunities in the Yard's growing industries, eliminating barriers to employment for disadvantaged populations. During her eight years at BNYDC, Dr. Rainey increased workforce placements of formerly incarcerated individuals from 100 placements to over 500 placements, bringing the total number of placements up to 20 percent.
Prior to her tenure at BNYDC, she was the Human Resources Director for specialty food retailer Agata and Valentina. Dr. Rainey has also held senior positions at Independent Living Association, Home Depot, and Boar's Head. A graduate of Southern Connecticut State University, Dr. Rainey holds a master's in administration from Metropolitan College and a doctorate in Leadership from St. John Fisher College. She is a member of the New York City Workforce Development Board, and a trustee of both the New York College of Technology Foundation Board and the Mark Morris Dance Group Board. Dr. Rainey is the recipient of several prestigious honors, including being named one of The Network Journal's 25 Influential Black Women in Business in 2016 and one of Crain's Notable Black Leaders and Executives in 2021.