TEENS OF ALL LEVEL CAN EXPLORE DANCE AT THE DANCE CENTER.
Take Classes
---
Events
MMDG is excited to join organizations across NYC for the first-ever citywide celebration of the arts for teens, by teens! Check out our Teen Arts Week Dance Class & Open Dress Rehearsal.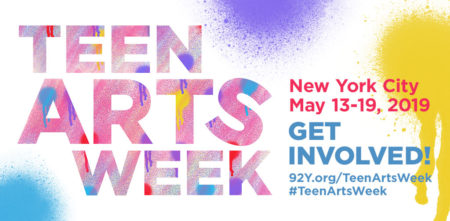 Dance and Create: Drop-in Contemporary Dance Class
Tuesday, May 14, 2019 at 5:30pm
Join the Mark Morris Dance Group's Arts Immersion students outdoors for an all-levels contemporary dance class that includes a chance to create your own choreography! Participants need no experience to join. Class is in conjunction with the citywide Teen Arts Week and will take place on The Plaza at 300 Ashland.
Learn More 
Student Company Open Dress Rehearsal
Thursday, May 16, 2019 at 7pm
Go behind the scenes with Mark Morris Dance Group's Student Company at their Open Dress Rehearsal. In a talk-back following the performance, teens will have the opportunity to ask the student performers questions about their work. The performance is in conjunction with the citywide Teen Art Week.
Learn More
---
Teen Summer Dance Workshops
One Week Beginner Teen Workshop
July 15-19, 2019
Welcome to the world of dance. Discover ballet, modern, jazz, and hip-hop techniques in a safe and positive environment, while meeting other teens that share your interest in movement, music, and performance. The workshop concludes with an informal showing for family and friends.
One or Two-Week Intermediate/Advanced Teen Intensive
Technique. Choreography. College Conversations.
July 22 – August 2, 2019
These workshops, taught by master teachers, performers and choreographers, provide students with an opportunity to explore movement drawn from a variety of contemporary and modern dance styles in a fun environment that helps students develop musicality, technical proficiency and a sense of confidence.
---
Performance Opportunities
Arts Immersion 
Explore. Collaborate. Create. Perform
Students in this free program delve deeply into all aspects of dance, production, and arts administration, gaining valuable experience and exposure in New York City's performing arts arena. Fifteen participants, selected through application, meet weekly to study with faculty and staff at the Mark Morris Dance Center, choreographer Mark Morris, and Dance Group company members. The program culminates in a 4-week summer performance lab that is student-driven, created, and produced. Students will also have the option to continue their study through myriad opportunities with MMDG and beyond.
Student Company
The Student Company of The School at the Mark Morris Dance Center exemplifies the progressive, comprehensive, and musically-driven approach of Mark Morris' work.  Student Company focuses on ballet and modern training while prioritizing the experience of performing works of influential choreographers in the field.
---
Advanced Explorations
Audition Prep
Semi-private coaching sessions are available for students preparing to audition for performing arts high schools, college and university dance departments, and intensive training programs. Students will focus on movement retention and performance technique and quality, while learning best practices and audition tips.